MAKE IT, BAKE IT, SEW IT, GROW IT
Our November program this year was a new event for our club. It was a Holiday Program/Silent Auction Fundraiser named Make It, Bake It, Sew It, Grow It. Each member was asked to bring an item to be put in the silent auction and to also invite a guest to come along to shop.
Due to the great support and efforts o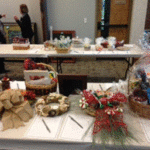 f our club members, our fundraiser was far more successful than we had ever expected. Our members Made, Baked, Sewed, and Grew such great items that we made a profit of $1,702.00. What a great way to spend($$) a morning! We got to eat great refreshments, bid on wonderful items, and socialize with our friends for 2 hours. Then we got to take home the goodies that we had won in the auction!
     Many thanks to all our members.
Olivia Ford, VP Programs.